The cast of The Real Housewives of Melbourne are known for doling out high drama, but newcomer Sally Bloomfield proves that she can handle the heat. With stints as the Melbourne Editor of Harper's Bazaar, Bloomfield is no stranger to stress or hard work. And she's ready for more: In her newest venture, Bloomfield Bali, an eponymous boutique hideaway hotel in Bali, Bloomfield shows us her traveler's spirit and entrepreneurial drive. Here, she talks travel, personal branding and the challenge of balancing it all.
Tell us about your prior hotel experience. What made you want to open Bloomfield Bali? 
My late Husband, Ian Robertson, had been in bars, hotels and clubs all his life. My first taste was when we owned the 85-room hotel, The Albany and Bloomfield, in South Yarra (Melbourne, Australia).
To say I became instantly hooked is an understatement. I adore the process from conception to reality, in particular, designing guest rooms and shared zones. We always had a vision to open a wellness-style hotel and saw a gap in the market for a good holistic lifestyle offering, especially in Bali.
Sadly, in late 2016, Ian passed away so he never got to see our dream come true. It was bittersweet, completing the project, but I know he would be proud of the hotel and team we created.
What made you choose Bali? 
Bali has been a home away from home for the past three decades. From my first visit, I fell in love with the people and the island. It was always our plan when we moved there to open a hotel.
In 2012, we moved to Bali, purchasing the most beautiful piece of land in Umalas, wedged between trendy Canggu and bustling Seminyak and on the doorstep of Ubud.
It started as a modern two-bedroom villa and we spent the next few years adding rooms for friends and family, finally deciding it was the perfect place for our hotel. Bali is easily accessible to the Australian and New Zealand markets, but surprisingly a lot of our guests are European.
Bali is a saturated market in terms of hotel options. What makes Bloomfield Bali stand out? 
What makes us stand out is our product, our location and the fact that we can deliver a premium product at a very accessible price point. And of course, Bloomfield Bali is very insta-fabulous. Every angle is a photo opp!
There is something very special about our piece of land and unique location with year-round beautiful breezes across the rolling rice paddy fields with the beach and shopping minutes away. Our rooms are really spacious, we have a yoga pavilion, a day spa, two pools and a bale bale (open-air hut) in the rice fields. It's the perfect spot for meditation, yoga or a sundowner.
We are seeing a shift in international travel from private villas and hotels suites to what we have created at Bloomfield Bali: a beautiful boutique with an intimate-yet-friendly environment where you can dine with other guests if you choose or lock yourself away for some privacy.
Our approach is 'guest first' and while we offer a contemporary and modern plant-based menu (of course with some kick-ass cocktails), people can tailor their experience. This extends to exercise programs, daily activities and the like.
You're known for your amazing personal style and Bloomfield Bali looks stunning. How much input did you have in the property's style and vibe? 
Thank you! I have always worked in fashion and was the Melbourne Editor of Harper's Bazaar for over three years before moving into hotels. My dad was an interior designer and that is the first job I had when I left school, so I guess it's in the blood.
This wasn't my first time at the rodeo, so I had a clear vision of what I wanted and that was to feel like walking into someone's home, relaxed and easy, not precious. I labored over every detail of the property from the extensive use of hand-crafted bamboo to the concrete and timber giving the property a neutral color palette.
I engaged a good friend, Alex Zabotto Bentley, of AZB Creative in the last few months to finalize the overall look and feel.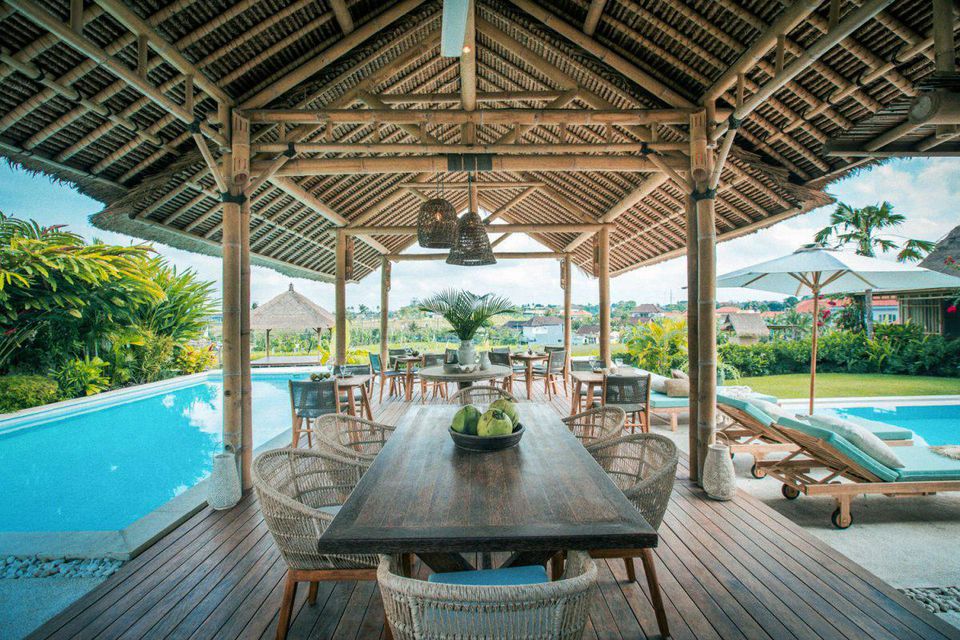 What were the challenges of filming a reality TV show, while also handling a hotel launch? 
Were there challenges?! That's an understatement. It's lucky I'm an extremely good multi-tasker because it was a crazy crazy time!
In the middle of filming in Mexico, the original roof of the hotel collapsed due to heavy rains, and I had to pause filming on another occasion to negotiate a land deal with my lawyer.
I kind of love a bit of chaos, so emailing and late-night meetings with builders and managers became the norm during filming. We got there in the end. Did I also mention I launched two other businesses in fashion and homewares during that time?
I'm getting better at saying 'no' these days… well, I'm a work in progress. I've decided I want to travel more with my kids, so I took myself off on a fabulous three-week European vacation and am planning to take the boys – 16-year-old Nicholas and 10-year-old Jules – to Canada next year. Nic loves downhill mountain biking so that is the perfect place to go!
In our age of celebrity lifestyle, where people are brands, how has being in the public eye helped and/or hindered your hotel brand? 
It has been a really positive experience for me. I tried not to take it too seriously and just go into it being myself, as much as is humanly possible on a reality show. It has been great for the hotel and we are pretty much solidly booked for the rest of the year and a good deal into next year.
I can't put it all down to the show, as I have a great team who work with me at the hotel, but it has definitely helped and brought attention to it that would otherwise have taken maybe twelve months to achieve. Furthermore, I am a Gemini, so I quite like a little attention!
From filming a TV show, have you learned any lessons that you've applied to your businesses? 
I think it is probably the other way around, from running my businesses I learned how to film a reality show: Have fun, be myself and don't take it too seriously!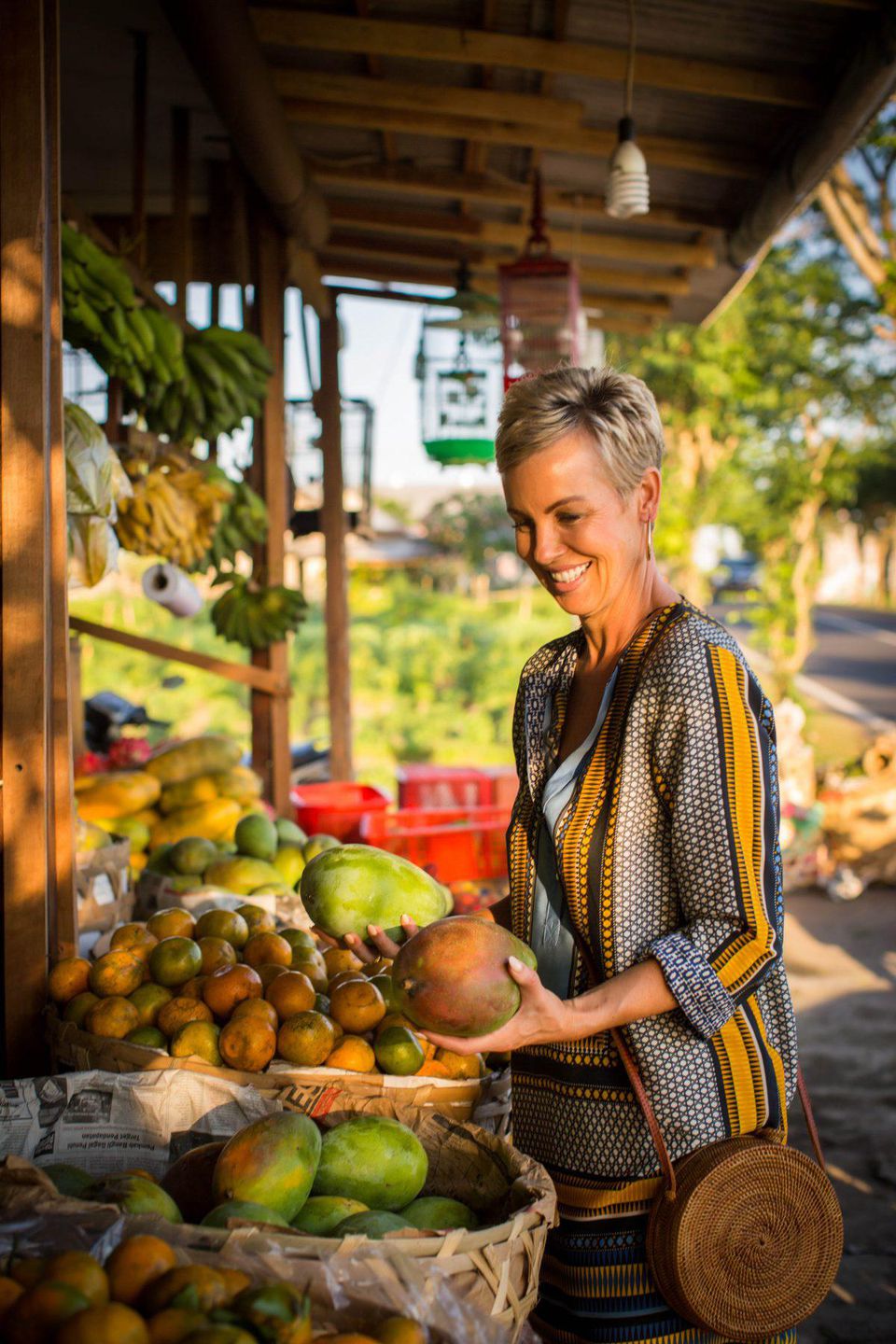 Out of your RHOM cast mates, who do you think would feel most at home at Bloomfield Bali? Has anyone visited yet? If so, what's been their feedback? 
Janet, Jackie and Gamble would all feel very at home at the hotel. They are all very down-to-earth and would just love it because they know how hard I have worked to get it open and we all support each other in whatever it is we are doing.
I have invited the girls to come and stay, and as soon as our schedules align, a girls' trip is on the cards.
What's next for the Bloomfield hotel brand? Are you planning on opening up another hotel? 
We always had the vision to expand the brand and are currently looking at other opportunities in South East Asia, but it needs to be the right fit. I really enjoy this business and every process that goes into it.
I was originally fearful of doing this on my own after Ian died, but I think facing that fear was a great thing for me personally and professionally. I am proud of myself for achieving what I have and feel that I have shown my boys that terrible things can happen in your life, but they don't have to define you.
written by Nicole Trilivas
source : https://www.forbes.com/sites/nicoletrilivas/2018/11/06/from-real-housewife-to-hotelier/#3e8cf5f83a5f